Stay competitive and get real-time data with ERP asset management software.
Growing wealth management firms are increasing their access to real-time data on their investments with cloud ERP asset management software that's specifically designed for their complex needs. The best way to stay competitive is to maximize investment opportunities, which means your asset management firm needs up-to-the-minute, real-time financial and operational data also.
Read more about the top three advantages that Sage Intacct financial software enables which help you minimize the time required to provide a comprehensive view of your assets under management. Ultimately it may be causing your firm to miss opportunities to invest or avoid loss if your current asset management ERP software causes a long delay between the business activities taking place and reporting on their results.
Advantage #1: See insights in real time with drill-down capability
Like most, your asset management firm probably struggles with multi-entity requirements and multiple currencies requiring hefty, manual consolidations. How many spreadsheets does it take your team to consolidate this mass of data? And how easily can your executives see actual insights that enable data-driven decisions? The trouble is, the longer the lag between the activities taking place and the time you report their results because manual consolidation means increased risk that the environment has changed because it's been so long.
The longer the lag between the activities taking place and the time you report their results means greater risk that the environment has changed because it's been so long.
Alternatively, with Sage Intacct wealth management accounting software, it automatically imports all your operational and financial data into a single system of record with a shared chart of accounts that is continuously consolidated. No more need to wait for month- or period-end to run your reports. Your decision makers will have real-time, consolidated data at the click of a mouse.
Using built-in, dynamic dashboards, it's easy to pivot the reporting currency from local to a base currency without lengthy, manual consolidations. And with drill-down capabilities, you can see the transactions comprising your results all the way to the operating entity's transactions, making audits a breeze.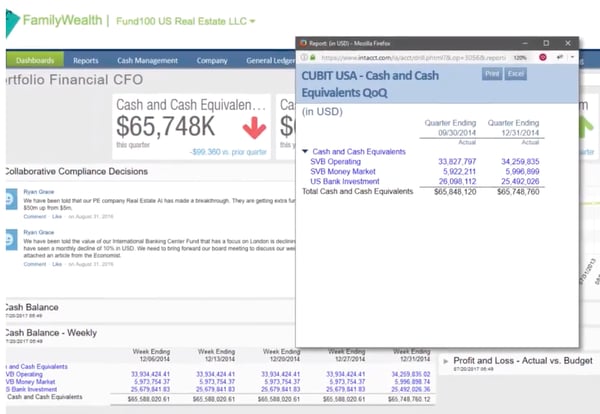 Advantage #2: Built-in collaboration tracks decisions
Your existing wealth management accounting system will probably track what you did and how you did it, but Sage Intacct's Collaborate function actually documents why you made the decision you made. No more wasting time locating the single email you need a year later to explain the rationale for the business decision. For example, your CFO can add a comment explaining why the decision was made, ask for additional analysis to support the decision, or even attach snapshots which are permanently recorded as part of the conversation. You can replace poor recollection and speculation with documented decision and audit trails.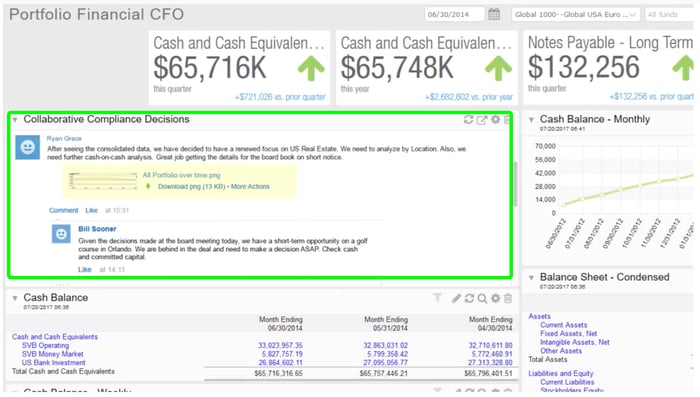 Advantage #3: Easily manage future growth

Add new business units and entities in minutes with just a few clicks with Sage Intacct. By automating new entity setup, you avoid expensive hardware, software, IT, and accounting resource expenses. Now, you can easily keep pace with corporate growth by reducing existing or eliminating additional headcount because Sage Intacct's automation is now doing the heavy lifting. For example, you can save time by creating new accounts based on similar, existing entities.
And Sage Intacct is the only ERP asset management accounting software endorsed by the AICPA, so you know you're GAAP compliant.
Contact Equation Technologies to learn how Sage Intacct can help automate your consolidations right now.
Another version of this blog was posted on January 9, 2020 - Make Real-Time Decisions with Asset Management Accounting Software.