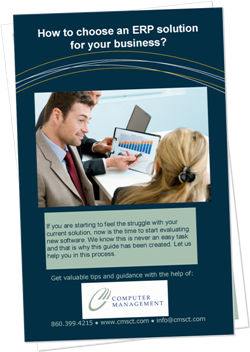 Do you need advice on how to choose an ERP solution for your business?
Have you outgrown your business management solution? Do you have more customers, more employees, more complexity? In short, your small business isn't so small anymore.
If you are starting to feel the struggle with your current solution, now is the time to start evaluating new software. We know this is never an easy task and we developed this guide to help you in the process.
Click here to view your guide:
http://www.cmsct.com/how-to-choose-erp/